Metal cutting is a common phenomenon in creating metal objects. Thus most metal engineers are looking for suitable metal cutting machines. You can cut metal in a variety of ways. But plasma cutting is the simplest way to cut metals. Using a laser cutting machine, you can cut only sheet metals because lasers are not a powerful cutting tool for the metal. If you use more power, you can engrave anything. But that will cost more than the standard prices. Therefore, we came here to find a suitable plasma cutter. In this discussion, we are going to present to you the best plasma cutter in 2022. We will mostly focus on the Amazon lists.
Best Plasma cutter in 2022 (Top 10 on amazon)
Amazon has a massive collection of products from different fields and studies. It takes time to find the appropriate product. It would help if you took the time to get perfect research about your desired equipment. In this case, we brought you this excellent guideline to get you the best plasma cutter from the amazon market. Consequently, it will help you to save your valuable time.
Regarding the plasma cutting machine, you must know the specifications. Side by side, you must know what they are. If you didn't learn the plasma cutting machine, please read CNC Plasma Cutter & plasma cutting complete machine guide. It contains an excellent summary of the plasma cutting machines. However, we would like to make sure that you knew the plasma cutter's efficiency and duty cycle.
Efficiency: An efficiency of a plasma cutter is measured by the machine's input and output work ratio. In the plasma cutting system, the percentage of the plasma torch's input and output work is the machine's efficiencies.
Duty Cycle: The amount of time working from a plasma cutting machine performing smoothly without increasing the temperature is the device's duty cycle. In general, it is measured in 10 minutes duty cycle. In today's discussion, most of our plasma cutting machines have a duty cycle above 60%.
Best plasma cutter from Amazon
Before we jump into the detail, we recommend checking out the following table. It contains the most critical specifications, which we all are looking for from the specification list. About 90% of the buyers look for machine cuts, OK and deep. They check out the power systems and the cooling system of the device. For them, this table would help a lot for quick knowledge of the plasma cutter specifications.
On the other hand, if you are looking for a complete guide, including pros and cons, please continue reading till the end. We hope it would make your research easier than before. So let's dig in.
Brand
Power
max Cut
Duty Cycle
CORAL JH-1
AC/DC
90V-260V(110V-220V)/50-60HZ
Current range: 20A-50A
20 mm
85%
AMICO ACUT50-3001
AC-230V at 15-50A,
Nominal DC Open (OCV): 265V,
Output 50A/DC-100V
1/2″ to 5/8″
(inches)
60%
HITBOX JP-CUT40
220 V ±15%, 50/60 Hz, 6.0 KVA
50 Amp
16 mm
70%
S7 WIN-WIN
90V-260V(110V-220V)
50-60HZ Rated
input capacity:4.8 KVA
Current range:20A-50A
1/2″ to 3/4″
(inches)
85%
Cuwiny CUT-50D
Input voltage: 110/220V
Current range: 20A-50A
Generator Input: 5.9 KVA at 220V; 4.4KVA at 110V
14mm
60%
VIVOHOME CT520DF
AC/DC 110/220V
Output 10-50A @ 220V/
10-35A @ 110V
12mm to 19mm
60%@50A
SUNGOLD POWER CUT-50
AC 110±15%/AC 220±15%
50-60Hz with capacity: 6.4 kVA
Rated input current: 27A /
No-load voltage: 210 V
Output current range: 10-50A / Output voltage: 100V
1/2 inches
60%
Lotos LTP5000D
AC/DC 110V /220
Output 10-50A
12mm to 19mm
60%@50A
HEROCUT CUT 35i
Input voltage: 110V+/-15%
Current range: 10A-30A
Generator input 3.9 KVA
8mm
60%@30A
Forney Easy Weld 251 20 P
AC 120V, 20/15 A
Output 140A
1/4 inches
60%
Best ten plasma cutter on amazon in 2022
CORAL JH-1 (#Best pick)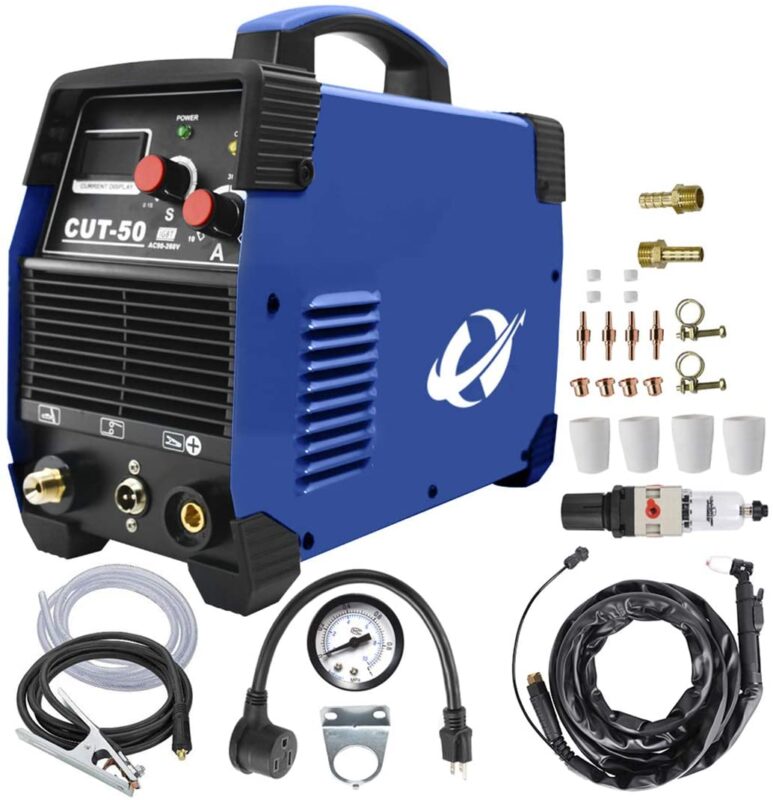 We took CORAL JH-1 as the best plasma cutter because of its excellent performance and popularity. Considering other features, CORAL JH-1 comes up always. However, Lotos has more popularity than this one. We didn't take LOTOS as the best pick because, in 2022, LOTOS 5000D is unavailable for now. CORAL JH-1 can be your best choice for excellent metal cutting performance.
CORAL JH-1 can provide up to 50 Ampere of the current flow, and thus it is called CUT50. Also, it's compatible with both in 110V and 220V power supply. It is a high-quality machine that increases the 30% work efficiency more than other devices. It is portable can fit on any CNC plasma cutting table. The work efficiency is 80% approx. And the duty cycle is 85%, respectively. It can cut all kinds of metal, such as stainless steel, Alloy steel, Mild steel, Copper, etc. The maximum cutting thickness is 20 mm. It has the Contact type arc striking.
The packaging dimension is 17.8 inches x 13.8 inches x 10.8 inches. The company will provide 12 separate items with the package, Plasma cutter, pressure reducing valve, Earth clamp, Cutting torch, Air hose, Replacement Consumables, Electrode nozzle, Ceramic cup, Diverter, Instruction manual, American Plug, 220 to 110V conversion line. The packaging box is about 21.2 pounds.
AMICO ACUT50-3001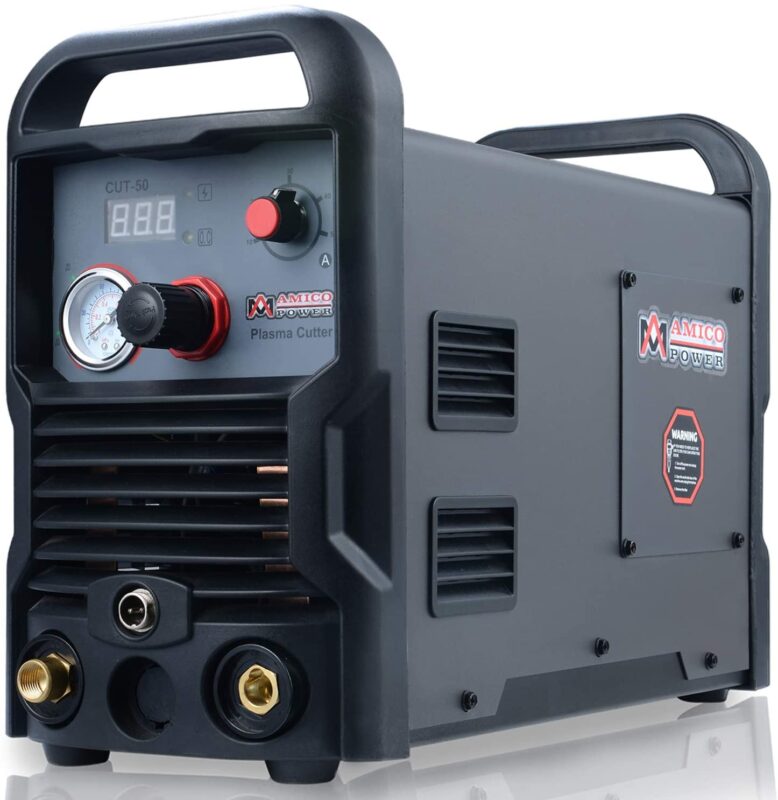 We chose this one right after the best pick. AMICO ACUT50-3001 has similar popularity and product performance to the CORAL JH-1. In this case, It got an excellent design and a handwheel regulator to control the output power. It cuts less deep than CORAL JH-1.
AMICO ACUT50-3001 also adapts auto-voltage from 100 – 240V input power. There's an ampere control regulator, which can generate up to 50 amperes of the regime. As a result, it can cut up to 1 inch depending on the type of material. It can cut all kinds of metal. Besides, it is designed for portable repair works and small business project use. This plasma cutter has a duty cycle of 60% at 50A and 100% at 38.7A, followed by 85% efficiency. It can cut mild steel 5/8 inches, stainless steel ½ inches, aluminum ½ inches.
The packaging box comes with a dimension of 18 x 8 x 14 inches with several parts of your AMICO plasma cutter, such as 13 Feet (SG55/AG60) Plasma Cutter Gun Assembly, 11 Feet 630A Work Clamp with Cable, 110V & 230V Power Adapter, Air Filter and Pressure Gage (Installed inside the machine), Instruction Manual. The product style is the Air Plasma Cutter Cutting Machine.
HITBOX JP-CUT40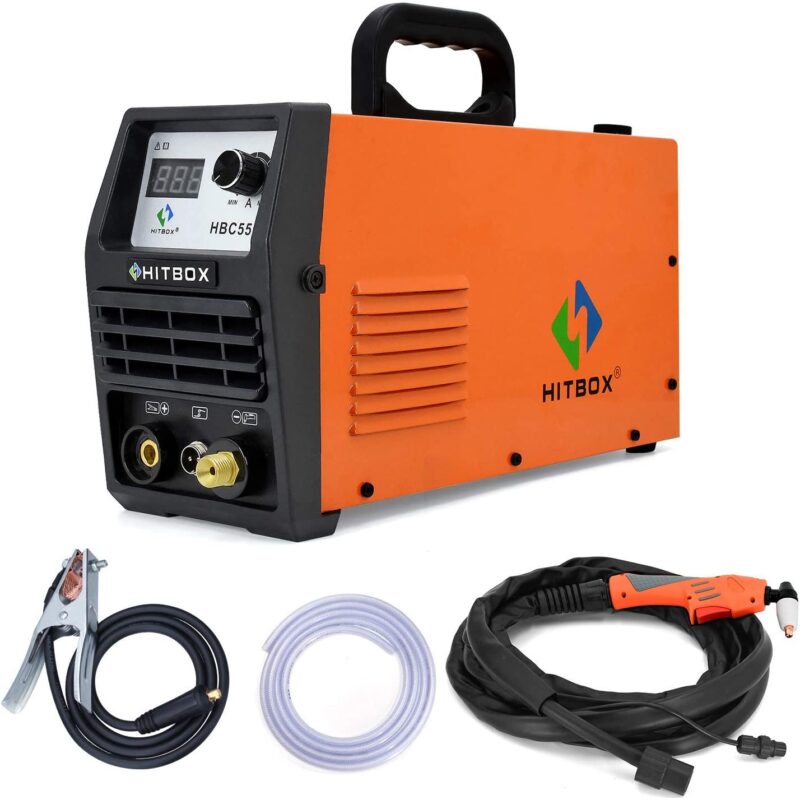 This plasma cutter is one of the most remarkable creations of HITBOX. It is smaller in look and light in weight. It is effortless to carry. Besides, It is comparing with other models, the specifications from this model quite similar. Thus, considering the size and weight, this model is convenient.
In general, HITBOX JP-CUT40 is a 50 Amp 80% Air Plasma cutter. The cutting device adopts the inverter technical of switch power. The energy-saving can reach up to 50% and 30% increased efficiency. Besides, the input voltage requires 220±15%V and input frequency requires 50/60 Hz. The total efficiency measured from this plasma cutter is approximate 85% with a complete Duty cycle of 70% at 25°C. It can cut pretty much any metals and alloys. The cutting thickness is about 16mm. Moreover, except for the power system rest of the specifications are satisfactory. If you are inside America, you might need a voltage adaptor to power up the machine.
The factory will provide the necessary parts and components for the machine. The overall packaging requires 17.72 x 13.39 x 10.63 inches of space, and it weighs 22 pounds. The materials of this plasma cutter are Iron, aluminum, Copper, and ABS. It only works in Alternate currents. The package comes with a PT31 cutting torch, gas tube, ground clamp with cable, built-in compressor.
S7 WIN-WIN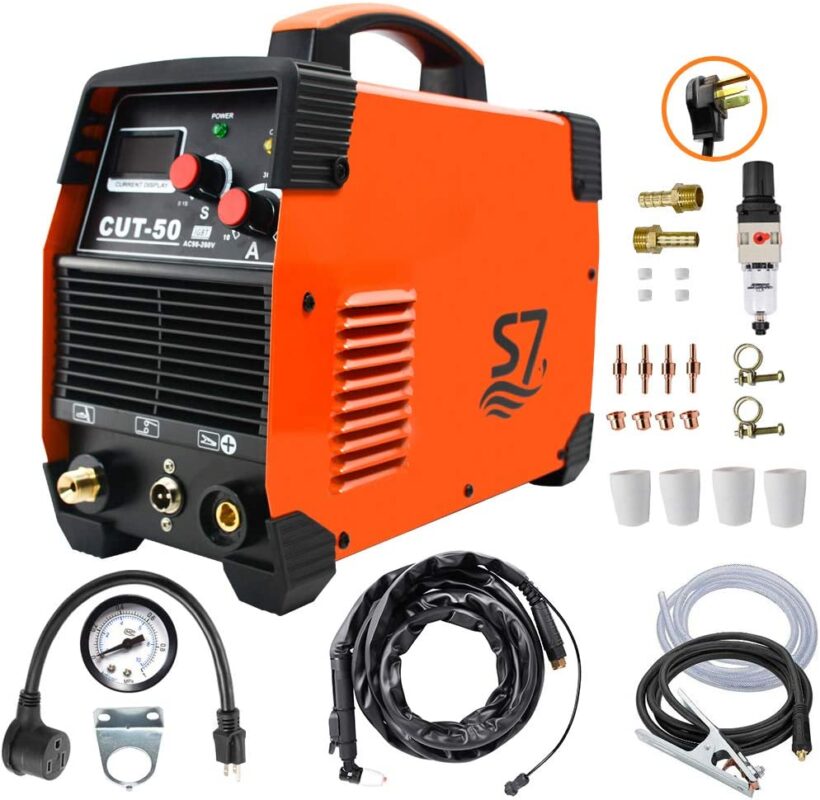 Our next best pick is this orange colored with a perfect finishing from S7 Store. This model also has similar specifications as the previous models. Considering the buyer's reviews and popularity, we took this model right after the HITBOX JP-CUT 40 model. The structure material of this model is iron that promises the quality and strength of the plasma cutter.
S7 WIN-WIN is a 50 Amp Digital Inverter Air Plasma Cutter. It works in both AC and DC power supply. The smart wide voltage 90- 260 V with 50/60 Hz frequency. The output power is adjustable from 10-50 Amp. Using this power, it provides 1/2 inches of a clean-cut and ¾ inches of maximum severance cut. In DC power supply, the output starts from 10-35 Amp, provides 1/3 inches of ideal clean-cut, and 2/5 maximum severance cut under 110/120V. It cuts all kinds of metals and alloys. The total efficiency and duty cycle of this plasma cutter is 80% and 85%, respectively. Moreover, This plasma cutter can be an excellent choice for both CNC installation and portable uses.
The overall packaging needs 15.35 x 6.29 x 12.99 inches of the dimensions weighing 20.4 pounds. The packaging includes pressure reducing valve, earth clamp, cutting torch, Air hose, replacement consumables, electric nozzle, ceramic cup, Diverter, and an instruction manual.
Cuwiny CUT-50D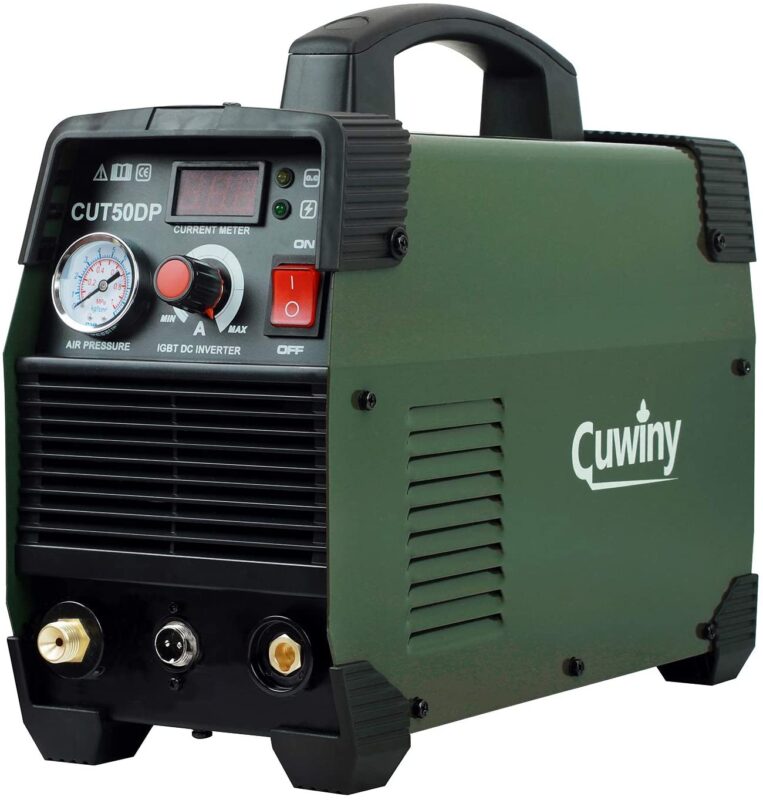 Our next best pick is the plasma cutter from Cuwiny manufacturer. This model is comparatively new on amazon. Considering all of the models here in the ranking, It got less popularity than the previous models. Yet, it has excellent product features and usability. It is green in color and with perfect finishing.
Cuwiny Cut-50 works both in Direct and alternating current. It provides 10-50A DC output cutting ½ inches ideal cut and 3/5 inches of maximum under 220/240V. On the other hand, it cuts 10-35A DC output provides 1/3 inches of clean-cut and 2/5 inches of maximum severance cut under 110/120V similar to S7 WIN-WIN. It adopts in the air pressure of 0.4- 0.7 MPa. The overall duty cycle is 60% at 50A and 100% at 40A. Cuwiny CUT-50D uses a better air regulator.
The package dimension is about 17.76 x 12.24 x 7.44 inches, weighing 22 pounds. In amazon, this packaging size may come by mistake. You can get the online specification to get an idea of the machine's dimension and the package. The material of the device is mostly metal and plastics. The package comes with the tip, 10 pcs electrode, swirl ring, ceramic cup, rotation screw, raw strip, copper gas nozzle, Elbow joint, Hose clamp.
VIVOHOME CT520DF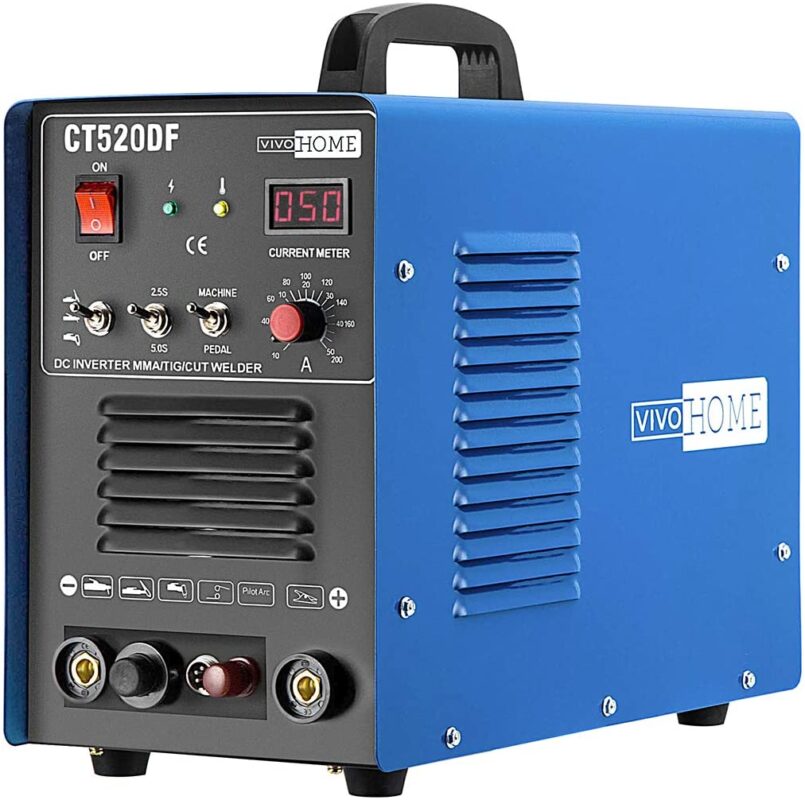 This plasma cutter is a potent machine among all the plasma cutter we are discussing here. It is more prominent in size and bluish in color. You know we are looking for the best convenient machine with a comfortable price range. This machine is comparatively best because it is bigger and has a robust electrical system. But still, it cuts similar to that of the previously discussed plasma cutter. And thus, we took this on in our sixth position in the ranking.
VIVOHOME CT 20DF is a 50A pilot plasma cutter and 200A TIG welder, 200A STICK/MMA welder are all available with the flip of a switch. It requires 10-50A at 220V and 10-35A at 110V. The output current comes from this plasma cutter is 10-50A at 220V and 10-35 at 110V. Using this power, it can penetrate up to 19mm with a 12mm of a clean cut. This plasma cutter's total duty cycle is at 40°C of 60% at 50A and 100% at 35A. In this case, this plasma cutter is highly suitable on any CNC installation cutting table. The best option for CNC table fitting is the TIG welder from VIVOHOME.
The overall packaging requires 25.2 x 16.5 x 12.7 inches, weighing 41.1 pounds. Consequently, It is not suitable for portable uses. This plasma cutter comes with an update in non-touch arc development. This non-touch arc is ideal for cutting plates with a thickness of more than 8mm. Finally, this plasma cutter is perfect for welding enthusiastic with basic repair needs and general light welding requirements.
SUNGOLD POWER CUT-50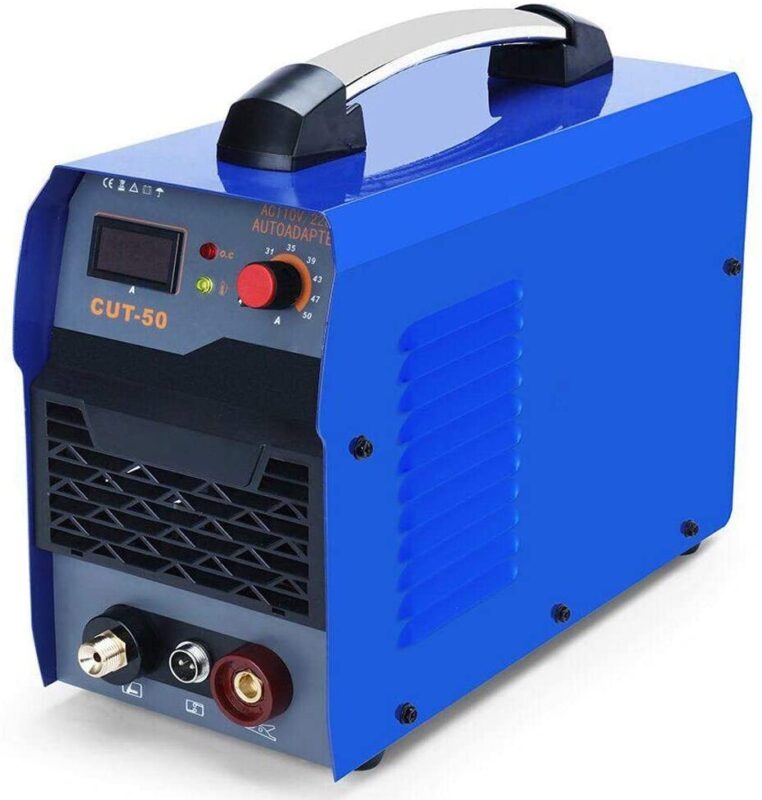 This plasma cutter is an IGBT tech, and thus, it is superior and more stable than the MOSFET machine. We took this plasma cutter as our 7th choice depending on its performance and the building structure's quality.
SUNGOLD Powercut 50 requires a power supply of AC110±15%/220±15% V, a power frequency of 50-60 Hz, and a rated input current of 27A with NO-Load voltage 210V. The output current comes in a range of 10-50A with an output voltage of 100V. In this power source, SUNGOLD POWERCUT 50 provides ½ inches clean-cut and ¾ inches severance maximum cut at 220V. The overall Duty cycle is 60% at 50A and 100% at 35 A. Besides, it contains an input air pressure of 0.3MPa.
The packaging dimension is 15.7 x 13.5 x 9.7 inches, weighing 25.4 pounds. The structural material is iron protects the inner mechanism from external damage. The package comes with a Cut50 machine with a Digital display, air regulator, gas hose, hose clamp, sets cutter consumables, ground clamp, and a plasma cutting torch.
Lotos LTP5000D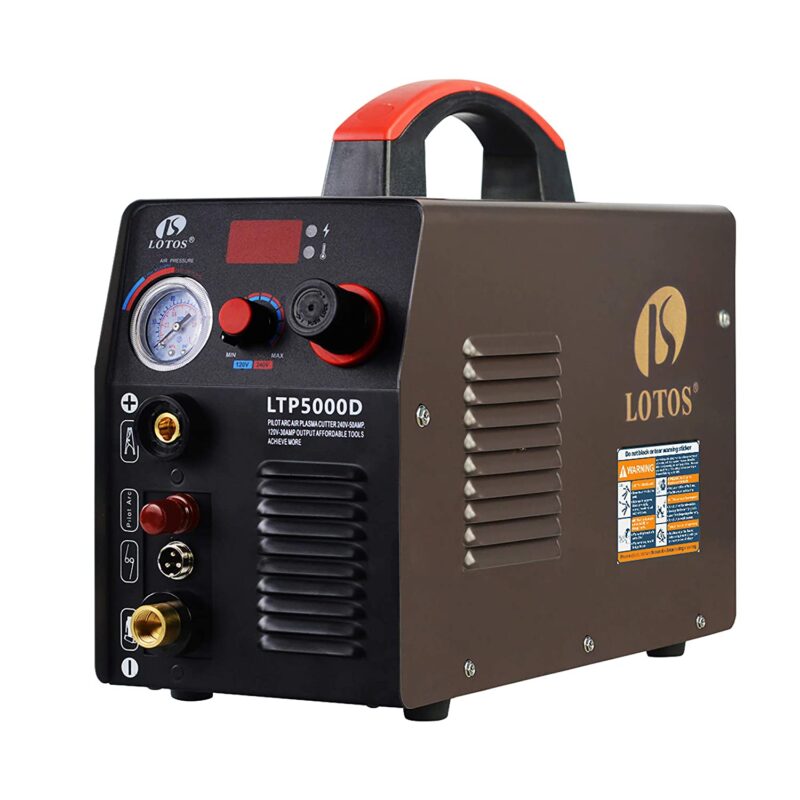 Lotos is a well-known brand for plasma cutter cutting machines. It is now temporarily unavailable on AMAZON. But it is going to be available very soon. And that's why we took this one in our 8th place in this ranking. This plasma cutter deserves to be the best pick, but we also considered the product's availability.
LOTOS LTP5000D requires 110/220V Input Voltage with a frequency of 50/60 Hz. It adopts with the Dual Voltage capability works directly in 220V 50/60Hz or on 110V 50/60 Hz with pigtail use. LOTOS LTP 5000D provides ½ inches clean-cut and a3/4 inches of severance maximum cut. The Overall duty cycle of the machine is 60% at 50A output current. This plasma cutter can cut all kinds of metals and alloys in any physical condition.
The product dimension is 15 x 6 x 12 inches, weighing 19.4 pounds. Lotos is an American company located in Sunnyvale, California, USA. People inside America can get this machine for any workshop metal cutting. This model is the best. It gained the highest popularity for plasma cutter cutting machine.
HEROCUT CUT 35i (#Best budgeted Option)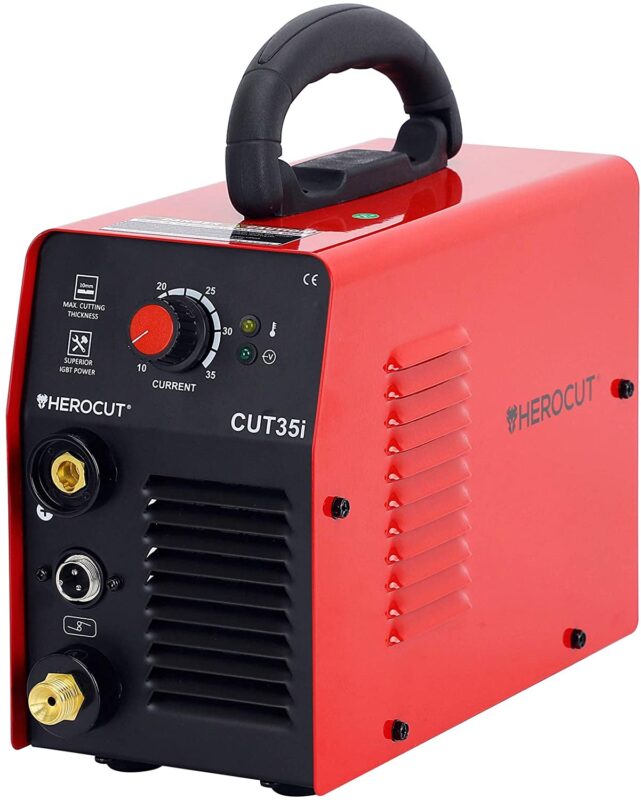 We might not need a cutting machine to cut think metals, and sometimes we may need a cutting machine to cut sheet metals and thicker surface. In this case, we will recommend looking at this model. This plasma cutter can be the best-budgeted option for you all. It is the cheapest and well-known plasma cutter cutting machine on amazon.
HEROCUT CUT35i requires 110V of input Voltage adopted the latest IGBT inverter technology. The cutting output current is 30 amp DC output. It provides 4mm clean-cut and 8mm severance maximum cut. At 30 amp output power, this plasma cutter gets the 60% Duty cycle and 100% at 25Amp. The available air pressure range is from 40-70 PSI. It can cut all kinds of metals and alloys.
The packaging dimension is 16.8 x 10.6 x 8.4 inches, weighing 12.82 pounds. It is the lightest plasma cutter among all of the discussed plasma cutter here in this article. The metal body will protect the inside mechanism from any external damage. The package will come with a plasma cutter, Cutting torch with 3 meters cable, air regulator with meter, earth cable with 1.5 meters cake, electrode, tip, swirl ring, torch shield cup, air hose with 2 pcs hose clamp and an instruction manual.
Forney Easy Weld 251 20 P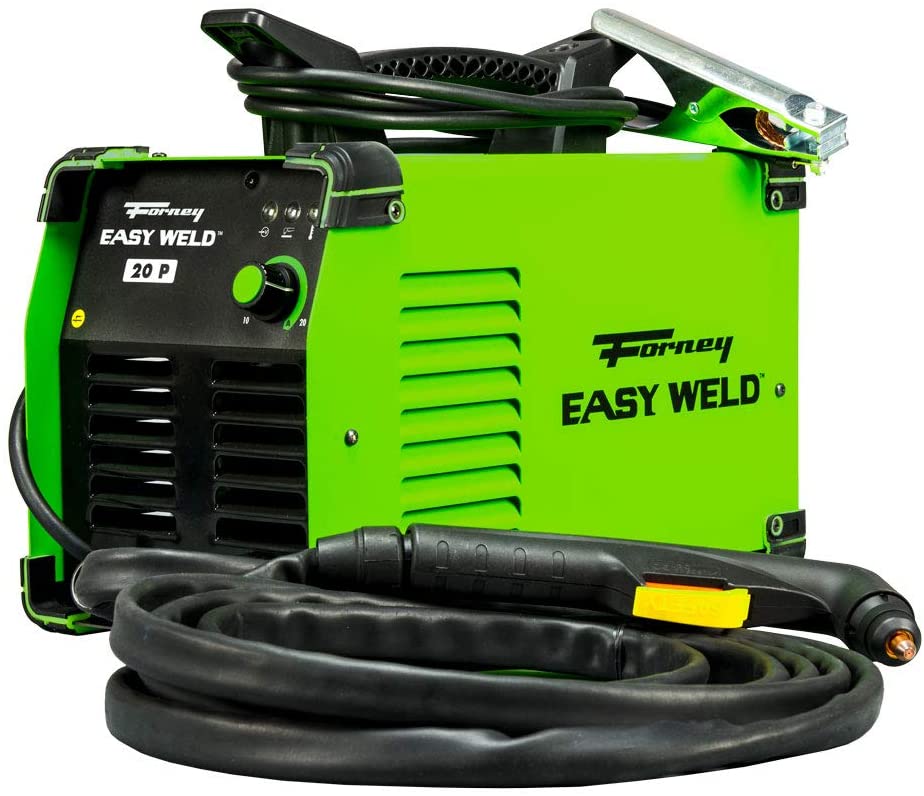 Our last best pick is this weld 251 20P plasma cutter from Forney comfortable weld. IT got similar specifications to HEROCUT. Considering all of these conditions and features, we took this item at our last option in this ranking.
Forney Easy weld 251 20P requires a 120-volt power source and 1.5 CFM of compressed air. It can cut all kinds of metals and alloys from thin materials to ¼ inches of thickness. Besides, it is beneficial for any sheet metal cutting. It is not suitable for thick materials cutting.
The packaging dimension is 15.13 x 8.13 x 12 inches, weighing 21.1 pounds. It is green in color. It combines with a 13' cutting torch, 8' ground clamp, 20A-15A adapter, one additional electrode, and one other nozzle. Backed by a 12-month warranty, the company will deliver your product.
Conclusion
From the above discussion, we got our best ten plasma cutter from Amazon. We took CORAL JH-1 as our best pick and HEROCUT CUT 35i as our best-budgeted option. Besides, all these there are other plasma cutters on amazon too. But considering the availability and the specification, we didn't consider that plasma cutter. Finally, we will recommend choosing any of these ten machines according to your demand. These ten plasma cutters are the best in specifications and also in product performance.
We spent a valuable time to know all of these products. We went through continuous research, and we learn into the deep. Finally, we brought this result in front of you. We hope this article will make your research more accessible and helpful. Please stay with us to get more. We will always be here with practical metalworking guidelines.