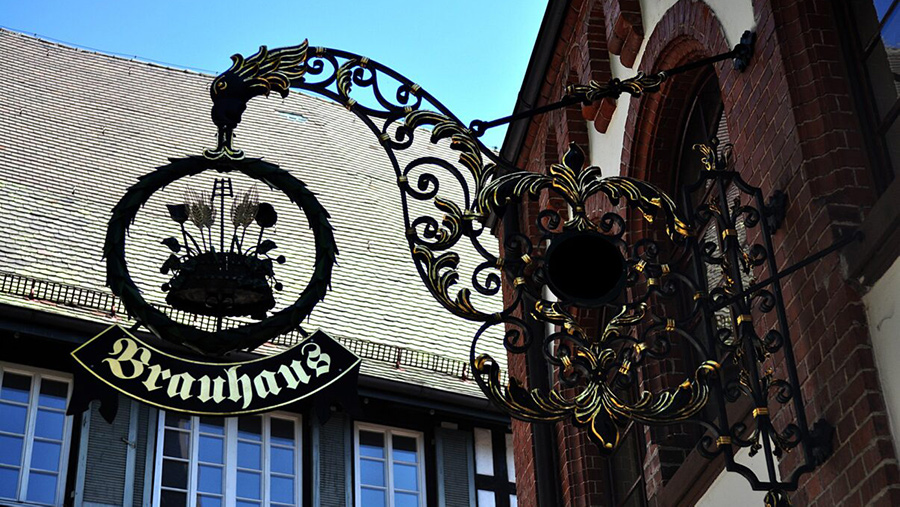 Laser-cut metal signs are now mostly used equipment for a company, shops, or your house. Because we know we don't want to wait too long for an artistic sign for our company. Using a CNC cutter machine, we can make our laser-cut metal signs. And thus, we bring you this ultimate guide of laser-cut metal signs. We will also demonstrate the best Fiber laser cut machine for any sheet metal cutting. At last, we will give you a list of the best laser-cut metal signs store in the USA.
Metal signs can be various in types. If we gather all of them, we can see that they usually stay in two different places, Indoor and Outdoor. In this case, Indoor metal signs are generally small in size, and the outdoor metal signs are usually gigantic. Before you go choosing the metal signs, you must know three things.
Size: Whether you need the metal sign for indoor or outdoor purposes. You must know for which purpose you need your metal signs.
Thickness: You also should know how hard your metal should be. An ordinary fiber laser cutting machine can cut the metal with a thickness of 0.2 – 1.0 inches.
Materials: There is some suitable metal for laser-cut metal signs such as Mild Steel, Stainless Steel, aluminum, brass, copper, etc. You must know which material you need for your business place.
Personalized metal signs making business market analysis
Metal signs manufacturing is a perfect business nowadays. People are not willing to make longterm sign making project. Due to technological advancement, you can finish your monthly project in one day. The fiber laser cutting machine is perfect for sheet metal cutting. To grow this business first, you should know the following three essential terms in business studies.
Current market size and growth rate
In the USA, according to google, you will find one laser cut metal sign store in approximate every 0.25 million square kilometers. Therefore, we can see that the market size is not that as huge as the other business. Due to technological advancement, the growth rate for people's demand is enormous. Therefore, you can consider your local place and identify the growth rate of the market.
Market capacity
As we have already mentioned that, In the USA, the laser-cut metal sign market is not that vast as the other business. Therefore, we can see that it's high time to start this business. We always want our house or our shop labeled with our dream names. People will need metal signs. Therefore if you are a native, you can think about it. Comparing the USA, all the developed countries have the same opportunities for this business. On the other hand, If we Consider Developing countries, it will be an excellent opportunity to start this business.
The number of competitors: In Developed countries, you will need to deal with some renowned competitors. But on the other hand, In developing countries, The number of competitors is not as that of a developed country.
The intensity of Competition: Similarly, in the USA or the other developed countries, the competition intensity is lower than the other business. On the other hand, In the developing countries, the Competition intensity is very low comparing to the developed countries.
Market segments
Company target market planning is an essential task to do here. First, you should research in your local place if there is any existing related business or not. After that, you should take action for your business.
Skill requirement for metal signs making
After we researched enough market analysis, you should check your business requirements. This analysis is also significant before you start. The following three terms are the obligatory requirements for the laser-cut metal sign business.
Technological skill requirement: You should know how to operate a laser metal cutting machine. A fiber laser cutting is suitable for laser-cut metal signs.
Production and operational skill requirement: The production line, functional section are two manufacturing places where you should keep an experienced operator to conduct errorless manufacturing.
Capital Requirement: Capital is an essential thing to consider here. A fiber laser cutting machine generally starts from 60,000$ to 150,000$. Therefore, you should keep in mind the capital requirement for better revenue.
Top 10 metal laser cutting machine for custom metal signs business
There are many manufacturing companies for Fiber laser-cut machines. The leading countries are the USA, China, Japan, some other countries in Europe, etc. We only considered choosing the manufacturer from the USA. All of the following Fiber laser cut machines are from the USA manufacturer. Therefore, this article will be best for the readers from the USA.
Before we gent into details, let's have a glance at the summary table of each of the machines we are going to discuss today. WE hope it will make it easier to understand clearly each of the device's specifications.
Rank
Brand
Working Area
Laser
wattage (KW)
Cutting
depth
Position
Accuracy
(inch/ft)
8
BOSS FC Accu-CUT BT240S
51.2″ x 51″ x 3″
0.5, 0.7, 1
3/8 "
± 0.001
2
fablight Sheet Metal Laser Cutter
25" x 50"
3, 4.5
0.08″ – 1″
± 0.001
3
Kern Fibercell Laser Cutter
52″ x 50″
0.5, 1, 1.5
0.04″ – 0.5″
± 0.002
4
BESCUTTER ACCU Series 5'x10'Laser
Cutting machine
59″ x 118 "
0.75, 1, 1.5, 2
3/8 "
± 0.001
5
FiberCAB FC44
40″ x 40″
1 to 6
0.2 – 1
± 0.001
6
Ermak Fibermak G-Force Fiber
Laser Cutting Machine
118″ x 59″
2
3/16″ – 5/8″
± 0.001
7
Piranha-Whitney fiber LASER
metal cutting machines L Series
60" X 120"
4, 6, 12
0.8″
±0.0003
8
VENTO FIBER LASER Vento 315
60″ х 120″
2, 3, 4, 5, 6
0.1″ – 1.0″
0.002″
9
Muratec LS3015GC
120.8″ – 61″
2.5, 4, 6
1.0″
± 0.001
10
Amanda VENTIS 3015 AJ
120.866"
x
61.023"
x
3.93"
4.5
1″
±0.0003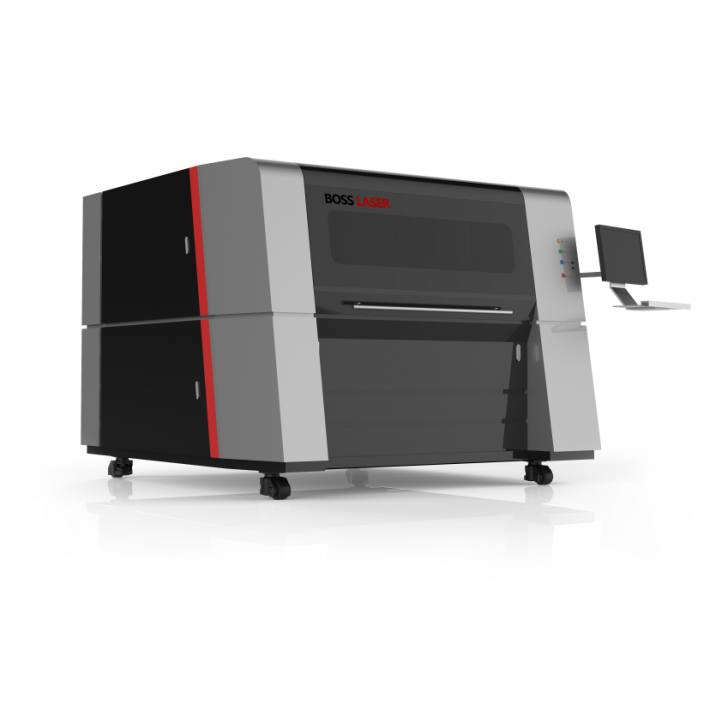 BOSS FC Accu-CUT BT240S
The FC Accu-CUT laser cutter offers high-quality metal signs cutting accuracy.  This USA-made metal fiber laser cutting machine (metal sign maker) provides greater precision, energy, and speed than all its competitors. Moreover, It could cut stainless steel, carbon steel, aluminum, brass, titanium, and some other metals alloys. Finally, it is safe when you operate this machine.
The cutting area is X=51.2", Y=51", Z=3" with the laser power of integrated IPG CW 500W, 700W, or 1000W. It requires a single-phase 220V power supply. The Tawain ball screw provides w/in .01 µ precision tolerances on three moving axes. Additionally, this metal laser cutting machine can take a net weight of 3,900 lbs. The overall dimension of this fiber laser machine is 86 "W x 85 "L x 64 "H.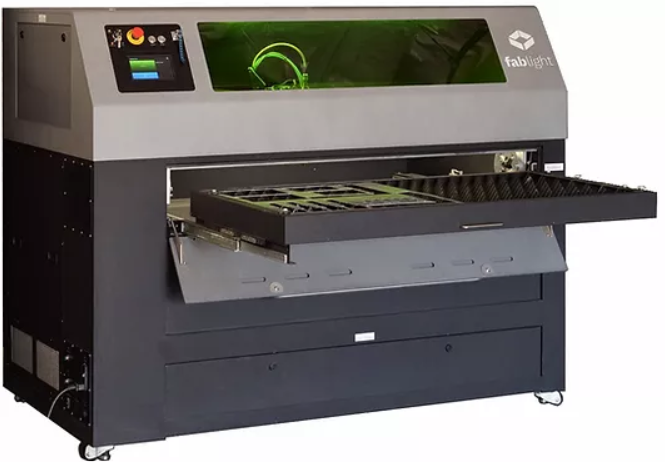 Fablight Sheet Metal Laser Cutter (1500/3000/4500)
The next one is from Oakland, CA 94601, California, USA. This excellent machine is affordable with outstanding product features. The unique side of this machine has the four axes facility to get a unique design. It also cuts steel, stainless steel, spring steel, copper, aluminum, titanium, brass, and some other metals and alloys.
This precision device can cut in the area of 25" x 50" that fits ¼ standard metric sheet. This Fiber laser cutting machine can cut up to 0.08 inches using only dry compressed air. If the laser wattage increases to 3000/4500W, the machine laser cuts thicker metal signs. Finally, the accuracy of this device is ±0.0001"/foot.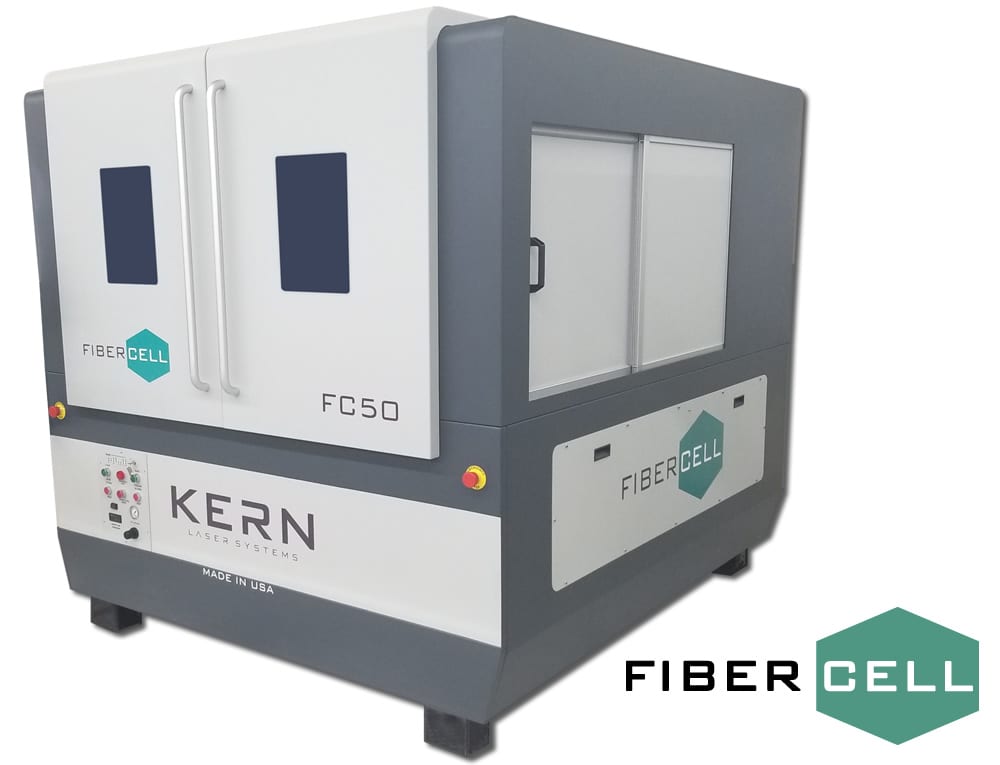 Kern Fibercell Laser Cutter
KERN industry presents the FiberCELL laser cutting system as a safe and high precision cutting machine. It is capable of cutting a variety of materials such as mild steel, stainless steel, aluminum, copper, and brass. It maintains a class one safety enclosure that allows the device to place in a busy traffic area.
KERN FiberCELL can engrave materials in a cutting area of 52" x 50". It uses Ytterbium Fiber Laser with a laser wattage of 0.5Kw, 1Kw, or 1.5kW. Moreover, It has a positioning accuracy of +/- .002"/ft and a repeatability of +/- .0005"/ft. The total net weight it can take is 3700 lbs.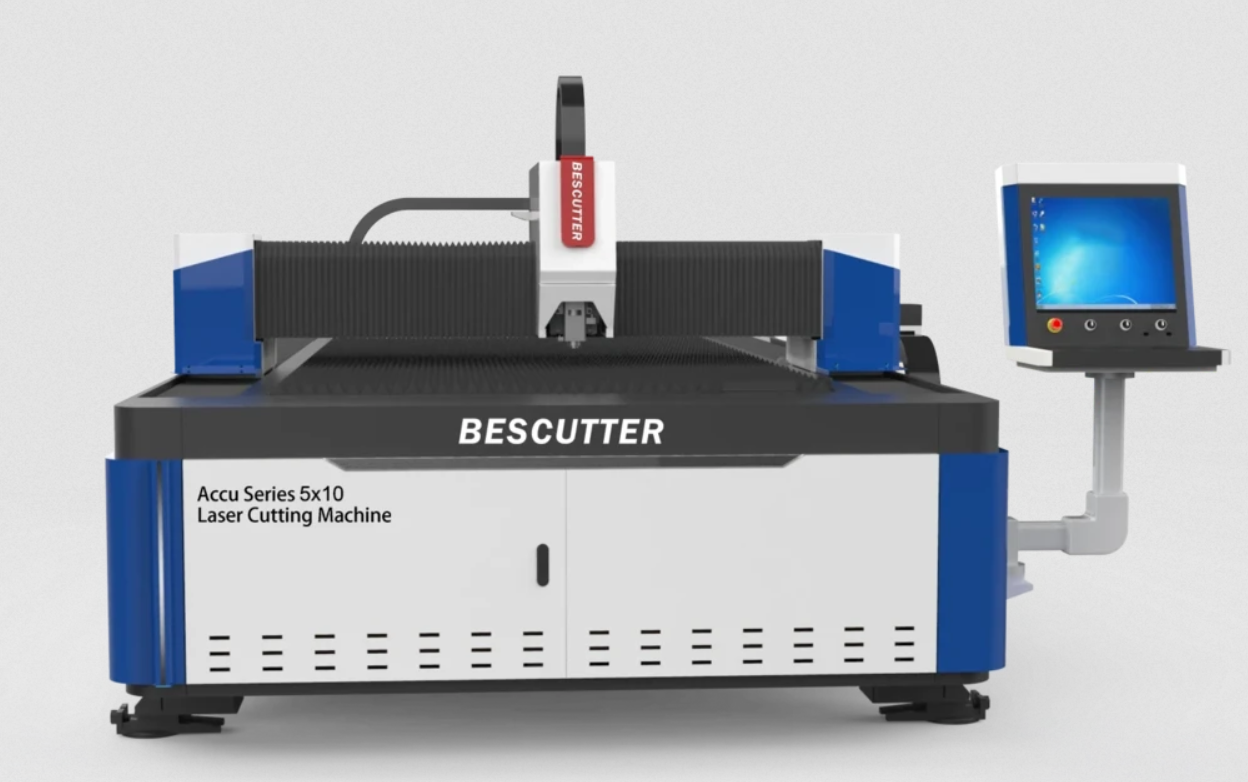 BESCUTTER ACCU Series 5'x10'Laser Cutting machine
Our next choice is the metal laser cutting machine from BESCUTTER. This machine is an affordable and high-precision option for laser-cut metal signs. It has no class 1 safety enclosure that does not ensure placing in a busy traffic area. Fibre cable contains the laser beam, so no need for beam alignment.
The cutting area is comparatively more significant, measuring 59" x 118" x 4.7" (1500 mm x 3000 mm x 218 mm). The laser beam is continuous, with 1.07 um having the wattage of 0.75kW, 1kW, 1.5kW, or 2kW. The total power consumption for this device is between 15 – 20 kW, and the net weight of the machine can take up to 5500 lbs.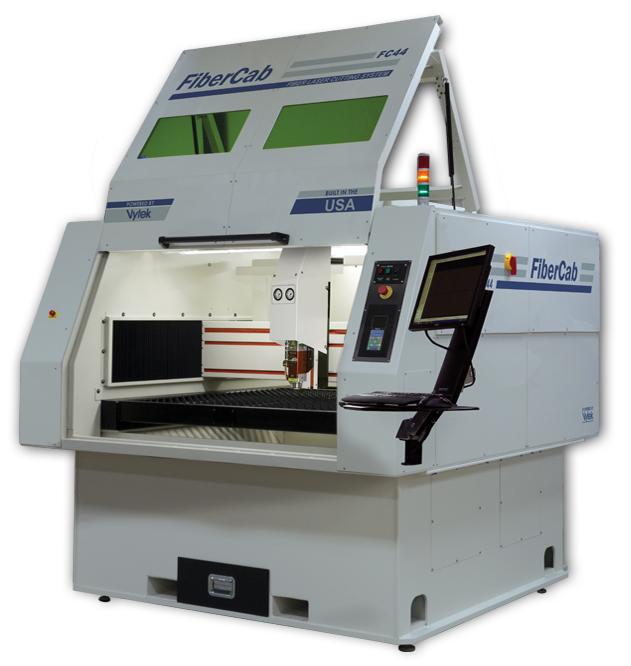 FiberCAB FC44
Another USA-made Fiber laser machine for laser-cut metal signs is from the Vytek industry. This model FC44 is a safe and accurate precision cutting machine. Additionally, The device combines the latest technology in laser development with the next generation air- and water-cooled laser. FC44 has a high-performance motion system and fiber sources.
The FC44 takes up to 52 square feet of floor space and has a working area of 40" x 40'. The Vytek FiberCAB lineup has a wide range of laser power from 1000W to 6000W. FiberCAM can cut, WELD and Engrave. It is easy to use and cuts all types of metals. The cutting depth is between 0.03" to 0.2".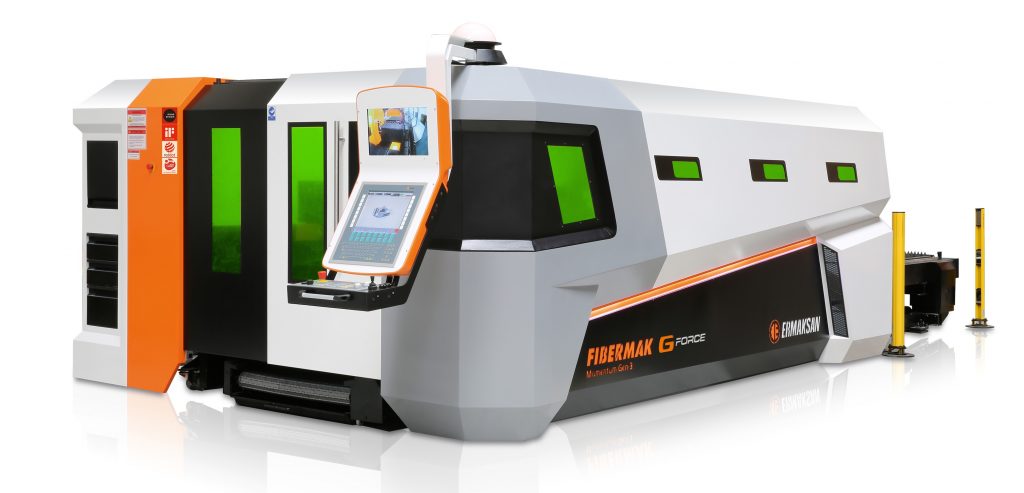 Ermak Fibermak G-Force Fiber Laser Cutting Machine
This pretty orangy well-finished machine is from Ermaksan Fibermak G Force, USA. This updated version decreases the production time and increases the productivity of up to 15% per hour. The unique side of this model is the software and automation process for laser-cut metal signs. Ermaksan's engineers solely developed the Gen-3 FIBERMAK MOMENTUM. Finally, it has high-quality laser sources and cutting heads.
The maximum worksheet area is 118" x 59" with the four-axis motion system. It can cut up to 4/8" and take up to 3307 lbs. The machine communication system is through the ethernet. The overall machine dimension is 362 "x146" x87 "H, with a total weight of 25000 lbs.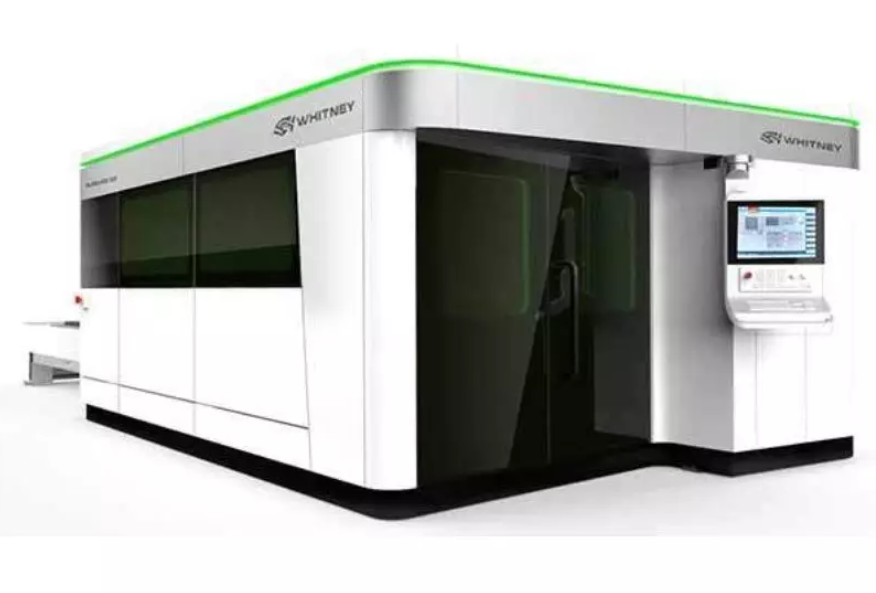 Piranha-Whitney fiber LASER, metal cutting machines P Series
Our next choice is the P series Fiber laser cutting machine from Piranha-Whitney. This model has a polymer granite base, linear drives, a carbon fiber bridge, and a CNC controlling platform. Additionally, the best mechanical components ensure high precision to laser-cut metal signs. This powerful machine can cut all types of metals such as stainless steel, copper, brass, carbon steel up to a thickness of one inch.
P series Fiber laser cutting machine has a cutting area of 60" X 120" with a shuttle table with two pallets. The fiber laser power varies, starting from 4kW, 6 kW, or 12 kW. Piranha-Whitney incorporates technology to reduce nitrogen assist gas flow while cutting 12kW laser power. As a result, this can result in nitrogen consumption rates that are comparatively less than the other processes.

VENTO FIBER LASER Vento 315
Another pretty orangy laser cutting machine we chose is from NUKON. The model is VENTO Fiber laser 315. NUKON Fiber laser targeting to meet the expectations of the fast pace changing the production sphere. It is easy to use and operator-friendly, cutting head control. It is also environmentally friendly with its low energy consumption.
The cutting sheet dimension is 5′ х 10′ / 60″ х 120″with a table height of 35.5 inches. The type of the machine is a Flying Optic head with an auto-focus head and manual focus head. The laser wattage can be between 2kW-6kW. The Cutting depth depends on the laser wattage. Usually, for 2kW laser wattage, this machine can cut between 0.118" – 0.625". The maximum net weight it can take is up to 2200 lbs.

Muratec LS3015GC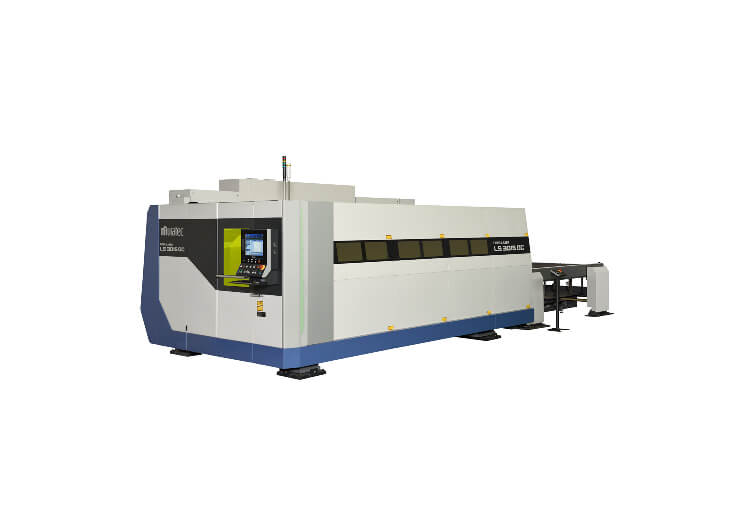 The next choice is LS3015GC from Muratec. The LS3015GC is the latest innovation in fiber technology from Muratec. This machine can cut both ferrous and non-ferrous materials such as steel, aluminum, brass, copper using the integrated flying optic system. This synonymous machine speed, accuracy, and quality feature a smaller footprint and upgraded drive system.
LS3015GC has a maximum cutting capacity area between 120.8 inches x 61.0 inches, with the weight of the maximum material up to 1322.8 lbs. The positioning and Repeating accuracy are +/- 0.001 inches. The laser wattage is 2.5 kW, 4 kW or 6 kW can cut a maximum of 1 inch of the thickness of the material. So it's a good option for making large laser-cut metal signs.

Amanda VENTIS 3015 AJ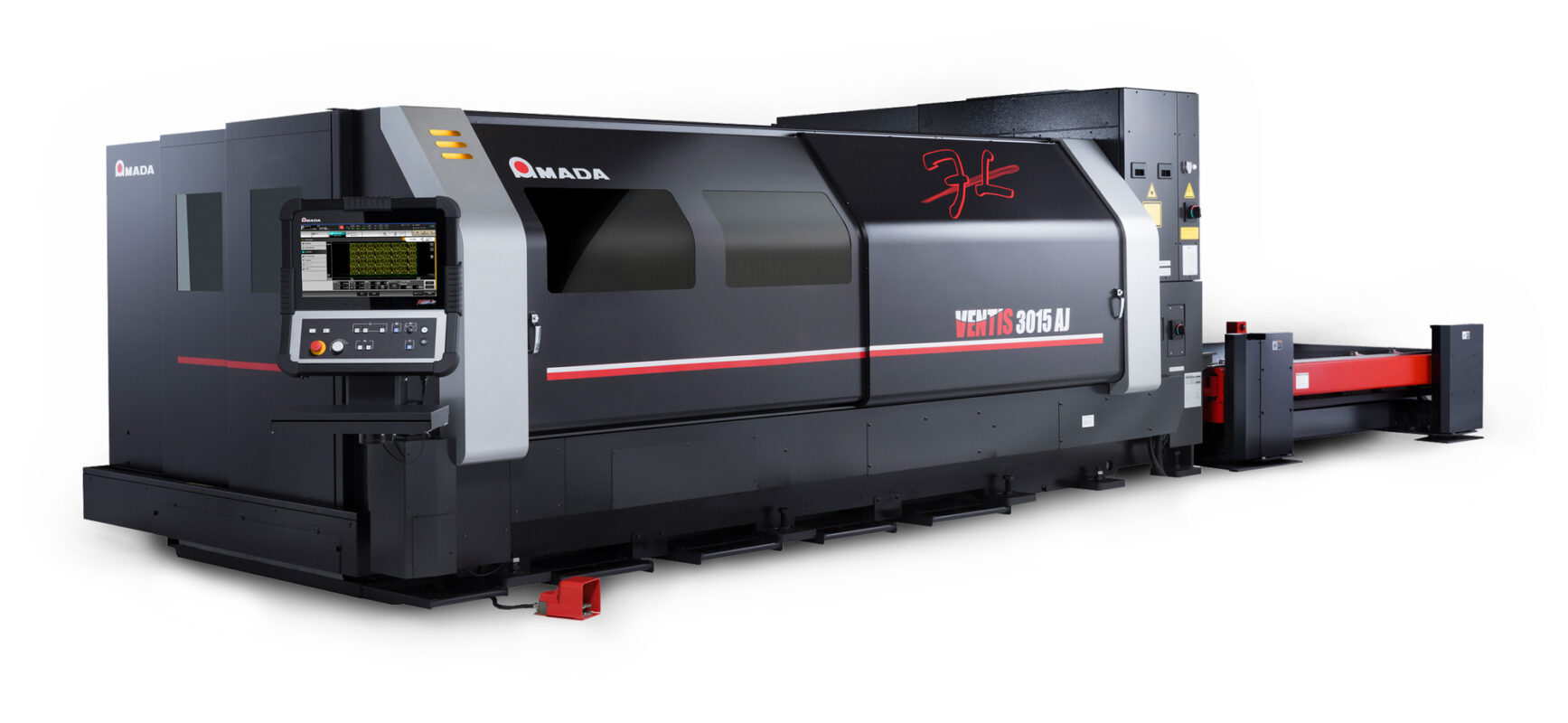 Our last pick is VENTIS 3015 AJ from AMADA America, INC. Similar to other fiber laser cutting machines, this one also achieves virtually dross-free cutting features. It can cut a variety of materials and thicknesses of metals. VENTIS series fiber laser cutting jas high-quality processing finish ensures high productivity.
VENTIS 3015 AJ has a cutting area of 120.866" x 61.023"x 3.93." It can take maximum material mass up to 2000lbs. The overall machine size is 395" x 112" x 88" weighs 20,075 lbs. It can cut a full 1-inch thickness of the laser-cut metal signs.

Things we considered laser metal cutting machine
The above ten fiber laser cutter machines we chose as the best for making custom laser-cut metal signs. There are a vast number of Fiber laser cutting machines. First, we considered choosing a manufacturer from the USA. Second, we thought of a few things to select the appropriate Fiber machine.
Working Area: All of the fiber laser cutting machines above are for more prominent laser-cut metal signs sizes. Thus, all of the devices have the working area between  (25" – 61") x (40" – 121"). 
Cutting Depth: As we are looking for the prominent laser-cut signs, so we must have a powerful machine to cut up to 1" thickness of the material.   
Laser Wattage: To cut big and thick materials, We must choose the laser wattages pf the fiber machine at least 1 – 1.5KW. We decided most of the laser-cut devices above have the laser wattages between 0.5 to 6 KW.
Max Weight: The materials we are going to cut inside that laser-cut machine are a vital topic to do research. Usually, steel is more massive than aluminum. What if your device has the lower max material weight. IN an easy word, what if your fiber laser machine is for soft materials like aluminum, copper, brass? It would help if you thought about your materials before you go to choose your appropriate laser-cut device. Most of the Fiber laser-cut machine here has the max material weight between 2000 lbs to 5500 lbs. 
Size and Weight: You may not look for the giant metal cutting machine; you may look for a specific device that can cut 40-60 inches metal sheet. Therefore, we thought this section in our consideration is choosing the appropriate fiber laser cutting machine.
Price: we looked for the best specification's fiber machine with the best price range.
The best Laser-cut metal signs stores in the USA
You may not look for the perfect laser-cut machine. Maybe you are looking for a custom metal signs store where you can get the best laser cut signs. In this ultimate guide of the laser sign, we brought you this section for you guys who are looking for the best place to get the best laser-cut metal sign designs.
Laser Cutting, Inc
This Laser cutting and engraving service provider has the highest rank on google. Laser Cutting, Inc is at 1549 South 38th Street, Milwaukee, WI 53215-1717. The services this inc provides are laser cutting (metal laser-cut signs), Laser cut signs engraving, Plastic Fabricating, UV flatbed printing, CNC routing, and milling, Mounting, and laminating. If you visit their website, you will get a bunch of beautiful samples on that you will definitely like. They ensure one-day to 3-day ground shipping in Chicago and New York.

ShieldCo
This professional service provider is running on the business track since 2013. They promise to turn your logo into custom metal art. This service provider specializes in making custom laser cut signage and décor. However, this company is at 1209 N East Street, Suite D, Fredrick, MD 21701. They provide products like custom metal laser cut signs, commercial signs, small business signs, Commissioned art pieces, Custom lighting, external lighting, etc. Aluminum is their favorite material because aluminum is durable, light, and cost-effective.

Impact Corporate Signs
Another excellent service provider is Impact signs. They work at 26 E. Burlington Ave. LaGrange, IL 60525. The services they provided are Office lobby signs, Metal plaques, Dimensional sign letters, Exterior lighted signs, Vinyl signs, laser cut wood signs, laser-cut acrylic signs, etc. Since 1989, impact laser signs are crafting the highest quality corporate signs, plaques, and architectural letters in the industry. They usually work with most of the metal farm signs like stainless steel signs, wrought-iron signs, and others, plastics, acrylic, glass, fabricated steel, paint colors, etc.

Laser-CutZ
This company is at 2556 East 17th St, 2nd Fl Brooklyn, NY 11235. The production factories manufacture in New York, New Jersey, Connecticut, Arizona, and Shenzhen. This company is very famous for its laser-cut signs. The services they provide are Sneeze Guards, metal sign design and Engraving, Laser Machine Service & Repair Service, Industrial and Mechanical Drawings Prototyping, Face Masks Orders – N95, KN95 FDA, and Regular Respirators

Laser Cut Co
This company is at 1420 Telephone Rd. Building A, Houston, TX 77023. This company is suitable for smaller indoor metal signs. Except for metal signs, this company also provides other services too. Their office is open from Monday to Friday at a specific time (9 AM – 11 AM, 4 PM – 6 PM).

Alabama Metal Art
This company has ten years of helping customers with their laser cut signage needs. Alabama's mission is to help companies communicate their brand through innovative designs. Alabama creates personalized metal name signs, metal signs for the home, and exterior business signage. Alabama manufactures at 409 Gerrard Dr, Florence, AL 35630, United States.

Metal Logos & More-Kansas
This company is an expert in creating metal custom business logos, custom metal address signs, personalized metal wall art, personalized metal signs, personalized metal yard signs, and any other signage product. They specialize in interior and exterior metal signs. If you visit their website, you will find the categories of metal signs. There are a bunch of items that are present on the list.

Sign Fabricators
This company is at 43984 North Groesbeck Highway, Clinton Township, Michigan 48036, United States. They specialize in Pole Design, Monument Design, Electronic message centers, Channel letter signs, Awnings, Graphics, etc. This company is serving southeast Michigan for over 20 years, and they have an excellent reputation.

Logo Sign Shop
This company is at 2474 Manana Dr. Suite 101 Dallas, TX 75220. This company provides signs of essential business, Custom signs, interior and exterior signs, Illuminated signs, Non-illuminated signs, Dimensional letters, Digitally Printed graphics, glass and window graphics, Sign displays, Temporary signs, Vehicle graphics, murals, and wayfinding signs.

Laser Alliance LLC
This company is at Laser Alliance LLC 1646, Watson Court, Milpitas, California 95035. Since 1994, this company offers laser cutting, laser engraving, and laser marking for personalized metal signs for home, business, and company. They use advanced laser systems and serve domestic and international clients across several industries.

Summery
From the above long discussion, we have demonstrated three essential sides of the laser-cut metal sign business.
How perfect it is now to build your laser-cut metal signs manufacturing business.
We demonstrated the ten best laser-cut machines for metal sheet.
Finally, we also demonstrated the ten best laser-cut metal sign stores in the USA.
We made this ranking depending on the popularity of the company on google. We listed many locations in the store and pointed out the best metal cut signs store in several places in the USA. On the other hand, we looked through several laser-cut machines manufactured from the USA or outside the USA. But in this article, we only took the manufacturer from the USA mainland. To know how to cut metal signs using a CNC laser cutting machine, please read the CNC laser cutter here.
It took quality time to demonstrate all these essential guides for starting a metal signs business. We hope it will make it easier to start your career from here. WOOCNC will provide the best metal CNC machinery guidelines for you. Therefore, always stay with us and never miss any content published in WOOCNC.